The health and beauty industry has long turned to nature for inspiration for not only herbal and organic skin treatments but safe and effective therapies for a more youthful appearance
CRYOTHERAPY can cause the blood vessels in the dermal layer of the skin to contract. As soon as you finish your CRYOTHERAPY treatment, your blood vessels then do the exact opposite – they dilate. This process first oxygenates the blood and then delivers this blood, with healing enzymes and nutrients to every part of your body. This may increase the production of collagen which improves elasticity and firmness of your skin. The immune system may be boosted and toxins removed from the body through the lymphatic system, which may help in the reduction of the appearance of cellulite.

CRYO LED uses specific wavelengths of light that can help to reduce wrinkles and tighten skin. This process feeds cells with light that is converted to the fuel source ATP that can help to promote cell reproduction and renewal. An increase in local blood circulation can also help to flush toxins from the dermal layers of the skin.
Our CRYOTHERAPY and CRYO LED treatments offer similar health benefits in relation to the improvement of skin appearance – it's up to you to decide what type of treatment you prefer.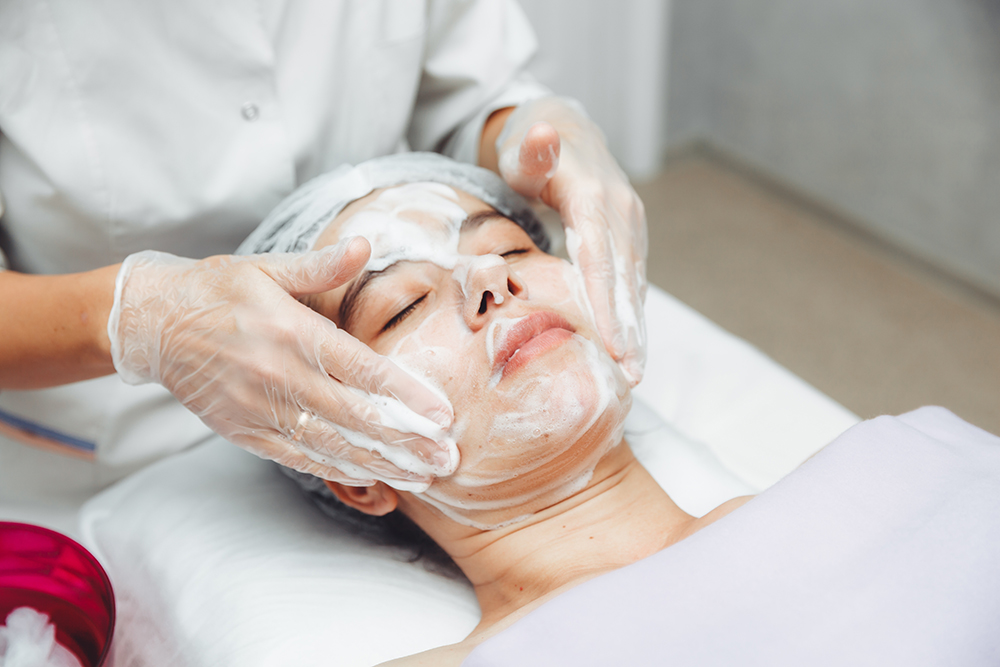 Frotox Facial
Facial cryotherapy treatment and 20min light therapy LED.
CryoClean Facial
Microdermabrasion or peel exfoliation.
CryoGlow Facial
Microdermabrasion or peel exfoliation, facial cryotherapy treatment, hyaluronic mask and 20min light therapy LED treatment.
Renew Facial
Radio frequency, hyaluronic mask and 20min light therapy LED treatment.
Advanced Anti-aging Facial
Advanced peel exfoliation, facial cryotherapy treatment, treatment serum ampoule and 20min light therapy LED treatment.
Still unsure if CRYO is for you? Our friendly CRYO staff members will happily chat about your needs to evaluate if CRYO can help.
What is Microdermabrasion?
Microdermabrasion provides gentle exfoliation to remove dead skin cells from the epidermis and encourage cell turnover. By buffing away the uppermost layer, this allows skincare products to absorb deeper into the lower dermis and take full effect. Microdermabrasion also assists with skin rejuvenation and helps eliminate the visible signs of congestion, leaving the skin smoother and brighter.
Radio Frequency skin tightening uses advanced radio frequencies to heat the deeper layers of the skin, causing a new production of collagen. Collagen restores the natural plumpness and vitality of the skin, reduces the appearance of fine lines and wrinkling textures, for a smooth, rejuvenated appearance. This treatment also improves blood circulation and helps the oxygen supply and reduce toxins for further assist reduce sign of ageing. This treatment produces optimal results when part of a treatment series. 
What is Facial Cryotherapy?
Facial cryotherapy is a safe, non-invasive and natural cryotherapy treatment for the face.
The skin is briefly cooled, penetrating deep into the layers of tissue triggering thermo-shock within 60 seconds. During this process, the blood vessels retract and then expand where blood flow is accelerated, healing enzymes and 'life supporting' hormones are dispatched to the area of the body where the emergency is declared when cells receive thermo-shock. This can help to reduce inflammation, accelerate healing, boost collagen production and flush toxins from the skin.
Thermo-shock can also kill everything that does not belong in the skin tissue – whether that be infection
or disorders caused by bacteria, virus or fungus. 
Peels work in a variety of ways to stimulate cell renewal, exfoliate and refine the skin's surface, as well as rejuvenate and hydrate the skin, leaving a brighter and revitalised appearance. Peels work to regenerate and resurface damaged skin, without harsh and invasive procedures. Peel treatments are customisable to each individual to help combat skin concerns including dullness, sun damage, wrinkles, scarring, acne/blemishes, and pigmentation.
What is Facial Light Therapy LED?
LED light therapy penetrates deep into the skin and helps energise cells and stimulate the body's natural processes of collagen production, build new proteins and regenerate cells. Light therapy assists with acne breakouts, fine lines, wrinkles, inflammation, scarring and rosacea, as well as assisting the skin healing process for acne and blemishes. Light therapy helps soothe the skin and reduce redness, and protects skin from UV damage.

Reduce fat without surgery safely and naturally

Increase endorphins for elevated physical and mental wellbeing

Boost collagen and
elastin for anti-ageing
benefits

Relieve and
soothe joint pain
and inflammation

Improve
muscle repair
and recovery
Prior to your treatment, you will meet with one of our friendly and professional CRYO staff to privately discuss your treatment goals, medical history and ask any questions you may have. You then have the opportunity to prepare for your treatment in your own private room.
"Love CRYO! I've been doing cryotherapy at the Edge cliff location and Cassandra is credibly nice and so helpful. I recently tried the CRYO LED and I am blown away at the service and positive after effects every time I walk out of a session. If you exercise regularly this is a must"
CRYO client Lucy
"After having my second baby, I really pushed myself to lose my baby weight but I couldn't get rid of the last little bit of my tummy. I looked at some different options and decided to try CRYOSLIM. I wasn't convinced it would work but it's non-invasive so I thought it was worth a try. It has been fantastic. My tummy doesn't hang over my jeans anymore and the staff were so lovely that I enjoyed every visit"
CRYO client Sheri
"Had a series of Cryotherapy and CRYO LED light therapy treatments post surgery and was skeptic. I'm ecstatic at my recovery post surgery, skipped any sort of bruising and was up and about in a few days (vs three weeks previously with the same surgery).
CRYO client JJ
I have also noticed that my skin texture has improved and I am generally feeling a greater sense of well-being overall. Cryotherapy has been great after travelling too, making jetlag more bearable. I have also been using CRYO LED post surgery and noticed my swelling, bruising and pain were alleviated at a much faster pace. I love the wonderful warm relaxing effect CRYO LED has on my body, especially after doing Cryotherapy first."
CRYO client Rebeccah
"Following my CRYO sessions I love how I instantly feel energised and rejuvenated. CRYO completely gets rid of my jet lag when I travel and the staff are always professional and friendly"
CRYO client Jason
"I have been thrashing my body this week and was in need of instant muscle recovery and tonight I'm not feeling the burn as I was today before my CRYO session after those squats at the gym this week"
CRYO client Bonnee
"Following my CRYO sessions I love how I instantly feel energised and rejuvenated. CRYO completely gets rid of my jet lag when I travel and the staff are always professional and friendly"
CRYO client Jason
"CRYO is working wonders for my osteoarthritis induced chronic back pain and the pain I get in my ankles from old injuries. I also love the natural endorphin high following treatments. The CRYO studio is state of the art with highly trained and personable CRYO Technicians"
CRYO client Scott

CRYO proudly offers the purchase of gift cards for CRYOTHERAPY,
CRYOSLIM™ and CRYO LED treatment. You can
gift any of our session packs, monthly memberships or a $ value of your choice.
You will be able to select a card, personalise the message,
schedule it to be sent electronically on the special day or print
it manually. Perfect for birthdays, special occasions,
anniversaries, Christmas, Fathers or Mothers Day.
If you're already an existing customer, please feel welcome to log in and schedule your appointment.