CRYO LOCAL is a targeted safe, non-invasive and natural localised cryotherapy treatment
CRYO LOCAL is a targeted safe, non-invasive
and natural localised cryotherapy treatment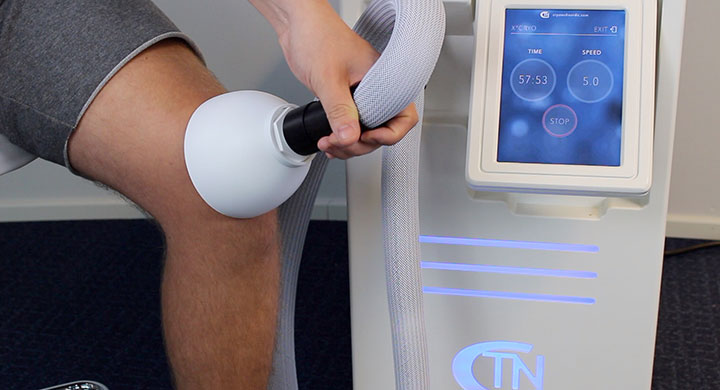 CRYO LOCAL is a targeted safe, non-invasive and natural localised cryotherapy treatment
CRYO LOCAL is a targeted safe, non-invasive and natural localised cryotherapy treatment
Reduce inflammation and swelling
Relieve muscle and joint pain
Improve mobility and elasticity
Relax muscle tension
Improve the appearance of cellulite
Accelerate injury recovery and post-surgery healing
Improve fungal and bacterial skin disorders
Improve local blood circulation
CRYO LOCAL is a targeted safe, non-invasive and natural localised cryotherapy treatment
Exposing a specific area on the body to intense cold for a short period promotes a thermo-shock reaction which causes retraction and then expansion of the blood vessels
During this process, accelerated blood flow, healing enzymes and 'life supporting' hormones are dispatched to the area of the body where the emergency is declared when cells receive thermo-shock. This can help to reduce inflammation, pain and muscle tension, boost collagen production and flush toxins from the skin.
Thermo-shock can also kill everything that does not belong in the skin tissue – whether that be infection or disorders caused by bacteria, virus or fungus.
How long does each session take?

Your booking is for a 15 minute timeslot. Your session time will be:
15 minutes
Treatment times vary depending on the specific area.You can treat multiple areas within the 15 minutes.
Why would I choose CRYO LOCAL at CRYO?
Safety is our highest priority. We use a localised cryotherapy machine that treats with cooled air only, not vaporised liquid nitrogen. There is no risk of cold burns to the skin
We are proud to have the safest and most technologically advanced localised cryotherapy machine worldwide, the CTN XCRYO
The air is electrically cooled up to -20 degrees celsius. Thermo-shock is achieved within the first 60 seconds of the treatment
Optional application of a liquid booster which enhances heat extraction from the treated tissue, promoting thermo-shock at a 50% faster rate and to prolong post treatment cooling
A range of applicators are available to target specific areas on the body and optimise results and efficiency
Available at CRYO Rosebery
Prior to your treatment, you will meet with one of our friendly and professional CRYO staff to privately discuss your treatment goals, medical history and ask any questions you may have. You then have the opportunity to prepare for your treatment in your own private room.
"Love CRYO! I've been doing cryotherapy at the Edge cliff location and Cassandra is credibly nice and so helpful. I recently tried the CRYO LED and I am blown away at the service and positive after effects every time I walk out of a session. If you exercise regularly this is a must"
CRYO client Lucy
"After having my second baby, I really pushed myself to lose my baby weight but I couldn't get rid of the last little bit of my tummy. I looked at some different options and decided to try CRYOSLIM. I wasn't convinced it would work but it's non-invasive so I thought it was worth a try. It has been fantastic. My tummy doesn't hang over my jeans anymore and the staff were so lovely that I enjoyed every visit"
CRYO client Sheri
"Had a series of Cryotherapy and CRYO LED light therapy treatments post surgery and was skeptic. I'm ecstatic at my recovery post surgery, skipped any sort of bruising and was up and about in a few days (vs three weeks previously with the same surgery).
CRYO client JJ
I have also noticed that my skin texture has improved and I am generally feeling a greater sense of well-being overall. Cryotherapy has been great after travelling too, making jetlag more bearable. I have also been using CRYO LED post surgery and noticed my swelling, bruising and pain were alleviated at a much faster pace. I love the wonderful warm relaxing effect CRYO LED has on my body, especially after doing Cryotherapy first."
CRYO client Rebeccah
"Following my CRYO sessions I love how I instantly feel energised and rejuvenated. CRYO completely gets rid of my jet lag when I travel and the staff are always professional and friendly"
CRYO client Jason
"I have been thrashing my body this week and was in need of instant muscle recovery and tonight I'm not feeling the burn as I was today before my CRYO session after those squats at the gym this week"
CRYO client Bonnee
"Following my CRYO sessions I love how I instantly feel energised and rejuvenated. CRYO completely gets rid of my jet lag when I travel and the staff are always professional and friendly"
CRYO client Jason
"CRYO is working wonders for my osteoarthritis induced chronic back pain and the pain I get in my ankles from old injuries. I also love the natural endorphin high following treatments. The CRYO studio is state of the art with highly trained and personable CRYO Technicians"
CRYO client Scott

CRYO proudly offers the purchase of gift cards for CRYOTHERAPY,
CRYOSLIM™ and CRYO LED treatment. You can
gift any of our session packs, monthly memberships or a $ value of your choice.
You will be able to select a card, personalise the message,
schedule it to be sent electronically on the special day or print
it manually. Perfect for birthdays, special occasions,
anniversaries, Christmas, Fathers or Mothers Day.
If you're already an existing customer, please feel welcome to log in and schedule your appointment.