CRYO LED is a soothing and natural LED light bed treatment for the whole body that can heal the body from the inside out.
CRYO LED Therapy helps promote total body wellness and peak physiological function by reducing
inflammation to naturally relieve pain and speed healing.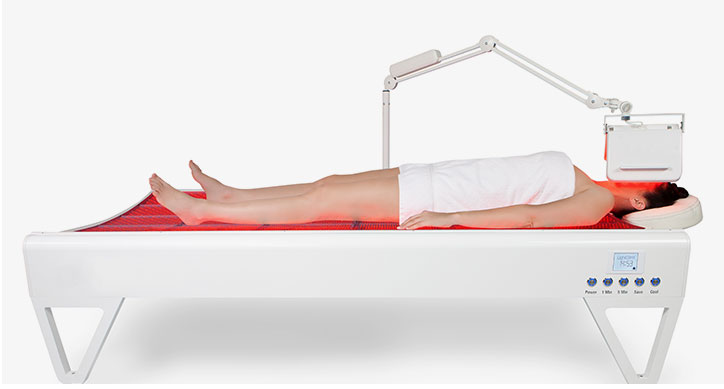 Through 18,240 LEDs, our CRYO LED bed simultaneously emits multiple wavelengths (colours) of light that are UV free that may help to energise cells and stimulate the body's natural processes to assist in building new proteins and regenerate cells.
This patented technology stimulates ATP (Adenosine Triphosphate) production known as the "energy currency of life". ATP is necessary for almost every physiological function in the body – cellular activity, protein synthesis, DNA/RNA replication and muscle contraction.
It also increases Nitric Oxide, dubbed "the miracle molecule" because of its importance as a signalling molecule that signals every cell in the body to "do its job", which can include protecting against cardiovascular disease, heart attacks and strokes, increasing blood flow, fighting infection and reducing lactic acid build up.
How long does each session take?

Your booking is for a 60 minute timeslot. Your session time will be:
40 mins + preparation time.
Why should you have CRYO LED treatment?
CRYO LED is designed to rejuvenate, repair and energize every cell in the body. Our LED bed is the only Food & Drug Administration (FDA) light-bed approved to increase local blood circulation and temporarily relieve muscle, joint and arthritic pain and stiffness.

Studies also show that LED light therapy can help to:
Available at CRYO Edgecliff and CRYO Rosebery
*Single sessions are only valid for the treatment purchased for and cannot be transferred
*Session packs can be used for either CRYOTHERAPY or CRYO LED treatments
*3 and 6 packs are non-transferrable and expire after 6 months
*10 and 20 packs can be shared between two people and expire after 12 months
Why should you have CRYO LED treatment?
*Recurring monthly membership without long term locked in conditions
*Membership sessions can be used for CRYOTHERAPY and CRYO LED treatments
*Unused sessions for the 5 and 10 pack monthly membership roll over for future use
*Roll over sessions expire 6 months from the purchase date if membership is still active
*Membership can be cancelled at any time after the initial 3mth joining period and prior to the next renewal date
*Once membership has been cancelled, all unused sessions expire by the date the membership was due to renew
*Membership sessions are non-transferrable to other people
*T&C's on the 30 pack membership: a maximum of 3 CRYOTHERAPY sessions per week
Prior to your treatment, you will meet with one of our friendly and professional CRYO staff to privately discuss your treatment goals, medical history and ask any questions you may have. You then have the opportunity to prepare for your treatment in your own private room.
"Love CRYO! I've been doing cryotherapy at the Edge cliff location and Cassandra is credibly nice and so helpful. I recently tried the CRYO LED and I am blown away at the service and positive after effects every time I walk out of a session. If you exercise regularly this is a must"
CRYO client Lucy
"After having my second baby, I really pushed myself to lose my baby weight but I couldn't get rid of the last little bit of my tummy. I looked at some different options and decided to try CRYOSLIM. I wasn't convinced it would work but it's non-invasive so I thought it was worth a try. It has been fantastic. My tummy doesn't hang over my jeans anymore and the staff were so lovely that I enjoyed every visit"
CRYO client Sheri
"Had a series of Cryotherapy and CRYO LED light therapy treatments post surgery and was skeptic. I'm ecstatic at my recovery post surgery, skipped any sort of bruising and was up and about in a few days (vs three weeks previously with the same surgery).
CRYO client JJ
I have also noticed that my skin texture has improved and I am generally feeling a greater sense of well-being overall. Cryotherapy has been great after travelling too, making jetlag more bearable. I have also been using CRYO LED post surgery and noticed my swelling, bruising and pain were alleviated at a much faster pace. I love the wonderful warm relaxing effect CRYO LED has on my body, especially after doing Cryotherapy first."
CRYO client Rebeccah
"Following my CRYO sessions I love how I instantly feel energised and rejuvenated. CRYO completely gets rid of my jet lag when I travel and the staff are always professional and friendly"
CRYO client Jason
"I have been thrashing my body this week and was in need of instant muscle recovery and tonight I'm not feeling the burn as I was today before my CRYO session after those squats at the gym this week"
CRYO client Bonnee
"Following my CRYO sessions I love how I instantly feel energised and rejuvenated. CRYO completely gets rid of my jet lag when I travel and the staff are always professional and friendly"
CRYO client Jason
"CRYO is working wonders for my osteoarthritis induced chronic back pain and the pain I get in my ankles from old injuries. I also love the natural endorphin high following treatments. The CRYO studio is state of the art with highly trained and personable CRYO Technicians"
CRYO client Scott

CRYO proudly offers the purchase of gift cards for CRYOTHERAPY,
CRYOSLIM™ and CRYO LED treatment. You can
gift any of our session packs, monthly memberships or a $ value of your choice.
You will be able to select a card, personalise the message,
schedule it to be sent electronically on the special day or print
it manually. Perfect for birthdays, special occasions,
anniversaries, Christmas, Fathers or Mothers Day.
If you're already an existing customer, please feel welcome to log in and schedule your appointment.