What is CRYO LED?
CRYO LED is a soothing and natural LED light bed treatment for the
whole body that can heal the body from the inside out.
CRYO LED Therapy helps promote total body wellness and peak physiological function by reducing
inflammation to naturally relieve pain and speed healing.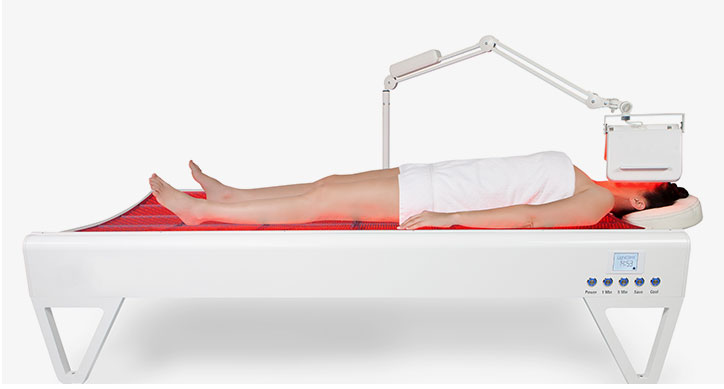 How does CRYO LED work?
Through 18,240 LEDs, our CRYO LED bed simultaneously emits multiple wavelengths (colours) of light that are UV free to energise cells and stimulate the body's natural processes to build new proteins and regenerate cells.
This patented technology stimulates ATP (Adenosine Triphosphate) production known as the "energy currency of life". ATP is necessary for almost every physiological function in the body – cellular activity, protein synthesis, DNA/RNA replication and muscle contraction.
It also increases Nitric Oxide, dubbed "the miracle molecule" because of its importance as a signalling molecule that signals every cell in the body to "do its job", protect against cardiovascular disease, heart attacks and strokes, increase blood flow, fight infection and reduce lactic acid build up.
Why should you have CRYO LED treatment?
CRYO LED is designed to rejuvenate, repair and energize every cell in the body. Our LED bed is the only Food & Drug Administration (FDA) light-bed approved to increase local blood circulation and temporarily relieve muscle, joint and arthritic pain and stiffness. Studies also show that LED light therapy can help to:
Accelerate wound healing
Reduce bruising, redness and swelling
Improves post exercise recovery and muscle regeneration
Reduces high blood pressure
Builds collagen and elastin to help reduce wrinkles and tighten skin
Releases endorphins to inhibit pain
Protects skin from UV damage