What is CRYOSLIM™?
CRYOSLIM™ is a revolutionary 3-phase fat cell reduction procedure that
is proudly unique to CRYO!
Offering clients a safe, non-invasive and non-surgical way to reduce fat deposits. CRYOSLIM™
targets stubborn areas of fat in a time efficient manner.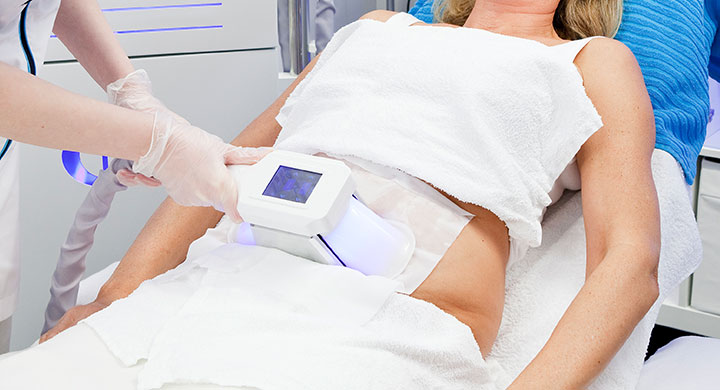 How does CRYOSLIM™ work?
By incorporating three unique scientifically proven fat-reducing technologies
CRYOSLIM™ provides clients great value for money.
Phase 1: Lipolaser – disrupts the fat cell membranes causing their cell structure to destabilise and empty their contents making them more vulnerable to extraction during phase 2.
Phase 2: Cryolipolysis – a safe, non-surgical alternative to traditional liposuction which targets and cools the fat cells to trigger their natural death. Within weeks the dead fat cells are naturally metabolised out of the body. The remaining cells condense resulting in an overall reduction in the fat layer. Vitamins and supplements are applied to the skin during this phase for enhanced benefits.
Phase 3: Cavitation – powerful and deep penetrating ultrasound cavitation disrupts the subcutaneous fat tissues causing further break-up of the treated tissue to allow increased fat-cell metabolism.